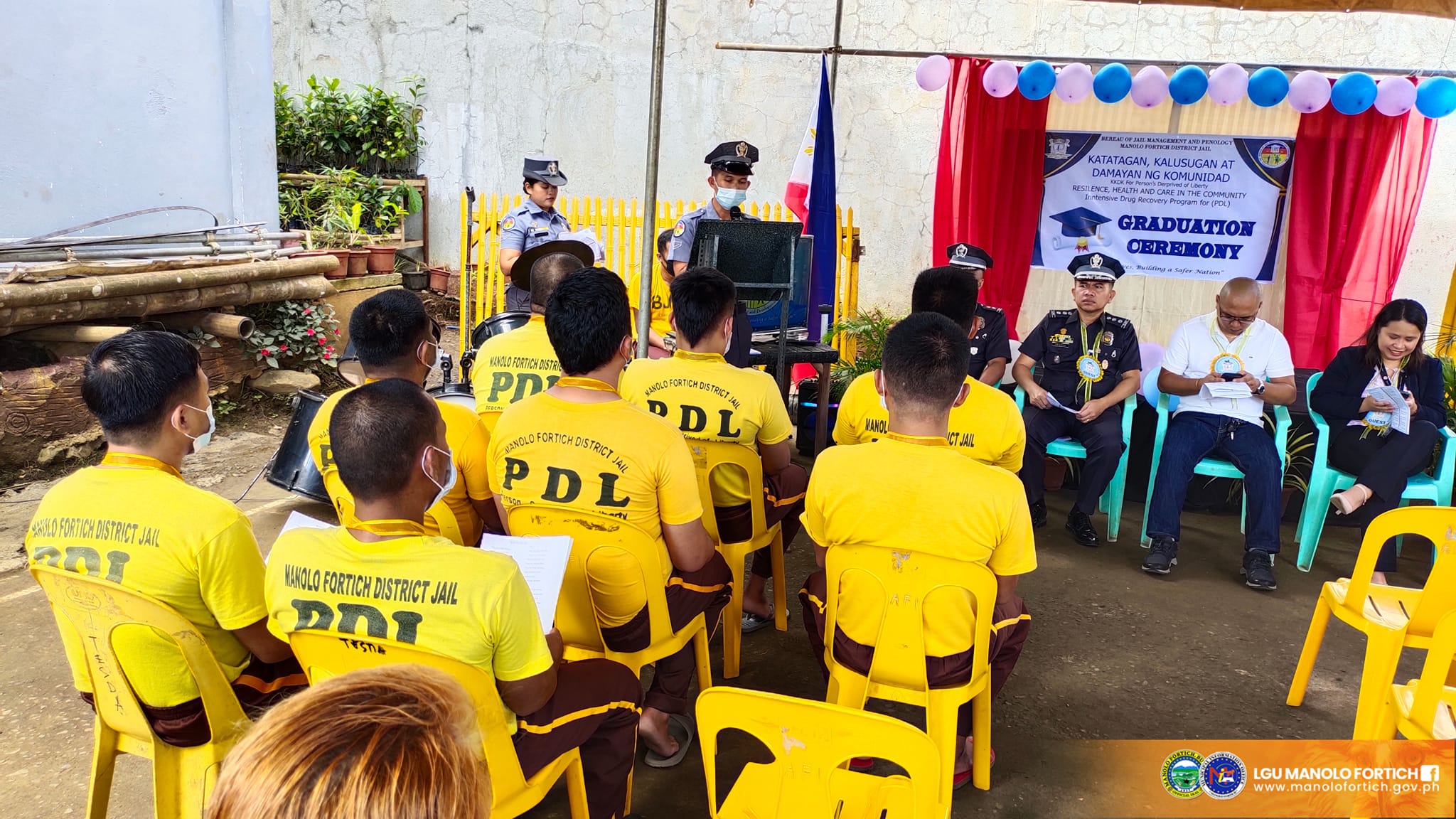 Manolo Fortich District Jail hosts KKDK Graduation Ceremony
Person's Deprived of Liberty graduated under KKDK Program by Manolo Fortich District Jail
Katatagan, Kalusugan at Damayan sa Komunidad (KKDK) Program Graduation Ceremony was hosted by the Manolo Fortich District Jail on January 31, 2023.
Eight Person's Deprived of Liberty (PDL) graduated under the program which is part of the rehabilitation program of the BJMP or Bukidnon Jail and Management and Penology.
The said ceremony was graced by Assistant Regional Director for Administration Jail Senior Superentendent Gil V. Inopia Jr. JSSupt. Inopia recognized the eight PDLs who graduated from KKDK program after 4 months of undergoing modular lessons. The PDLs started their schooling last October and ended January this year.
According to JSSupt. Inopia, this program of the BJMP was initiated due to the rapid rise of the number of PDLs in BJMP facilities in the country. The rise of the number of PDLs is due to the effects of war against drugs campaign of the former President Rodrigo R. Duterte. In addition, the recipients of the program are PDLs who are involved in drug-related cases. However, JSSupt. Inopia clarified that the participants of the program still depend on the jurisdiction of the court.
Meanwhile, Municipal Executive Assistant Atty. Ricci Jamila praised the eight PDL who graduated from KKDK Program. As one of the designate of the Community Based Rehabilitation Program in the municipality, it is not easy to conduct the program. He also recognized the program core group, coordinator, facilitators, and the families of the PDL who supported and encouraged them. Atty. Jamila hopes that the effort of the eight PDL who have graduated will serve as an example to others.
The other guests in the event are Jail Senior Superentendent Samuel Palionay of Bureau of Jail Management and Penology Region 10, Manolo Fortich District Jail Warden Chief Inspector Arnel S. Nacasabog, DILG Municipal Local Government Operation Officer Cherry Lou B. Lafuente, Tankulan Barangay Kagawad Allan Improgo and the personalities of the BJMP.
Liza Muga
Admin
Date Posted: February 20, 2023