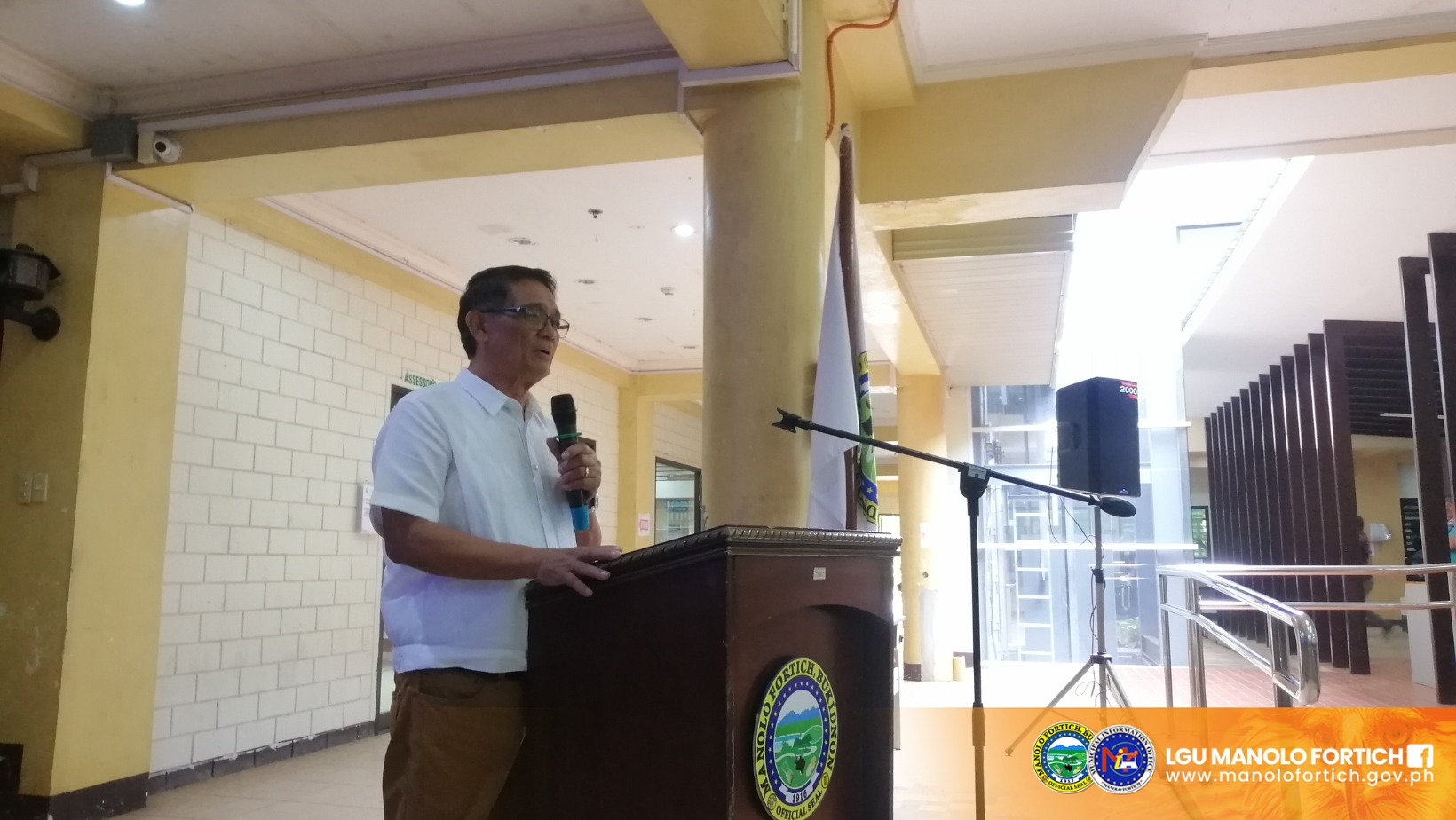 Mayor Quiño seeks to add more Skills Training and lessen Illegitimate Families
The weekly convocation program proceeded succesfully with inputs from Mayor Rogelio N. Quiño.
Mayor Rogelio N. Quiño aims to give attention to adding more of the skills training at the Technical Skills and Development Center (TSDC) and mitigate the number of Illegitimate Families in the municipality of Manolo Fortich after the delivery of accomplishment reports during the weekly convocation program held on February 6, 2023 at the municipal lobby.
The Head of Office of the Local Civil Registry (LCR), Management Information Systems Office (MISO), Technical Skills and Development Center (TSDC) and Public Employment and Scholarship Office (PESO) of Manolo Fortich delivered their accomplishment reports which consents transparency and monitoring to every office in the Local Government Unit of Manolo Fortich.
Moreover, Mayor Quiño expressed his interests on the possibility of adding more of the technical skills training that have higher job matchings in the municipality. He also would want to trace the number of successful graduates and their whereabouts after undergoing training with TSDC. "Malipay man sad ta nga makatanaw ta nga anaay mga naka-abroad, nakatrabaho nga maayo na ang kahimtang nga magsilbing lantaw sa atong pagnerbisyo. (I would be very happy to know if there are ones who have gone abroad, have stable jobs, who are in better situations now as proof of our good service.", communicated by the mayor.
He also would want to take action to the 57% recorded families by the Civil Registry who are illegitimate. "Sa kadaghan nga atong gikasal, daghan gihapon kaayo ni silang mga illegitimate families. Importante nga makasal kini sila aron nga ang ilang mga anak makadawat usab sa mga benipisyo sa gobyerno. (Of the number of couples wed, there are still a number of illegitimate families. It is important to marry these couples so that their children can acquire benefits from the government.)" Mayor Quiño added.
Consequently, the Management Information Systems Office (MISO) sees to amplify Executive Order 170 or "Adoption of Digital Payments for Government Disbursements and Collections". According to MISO Head Junel Jig Jimenez, LGU Manolo Fortich is still at 7% of fulfilling this mandate.
On the other hand, a turn-over for the award garnered by the Public Employment and Scholarship Office of Manolo Fortich from Department of Labor and Employment Region 10 for the 100% Performance Rating in the implementation of the services and program of PESO. The said award was received by the Municipal Mayor Rogelio N. Quiño from the PESO Manager Roger O. Molina.
A recognition of the Nursing Board Exam Top 10, Eve Kathleen L. Viudor from Barangay Damilag happened during the end part of the convocation. She garnered 88.20% rating in the November 2022 exam and an alumna of Xavier University-Ateneo de Cagayan bringing honor to the municipality. Through Resolution 2023-43 passed by Councilor Christy L. Salabe and acknowledged by the Sangguniang Bayan headed by Vice Mayor Reynaldo L. Bagayas Jr, the recognition took place.
Liza Muga
Admin
Date Posted: March 15, 2023