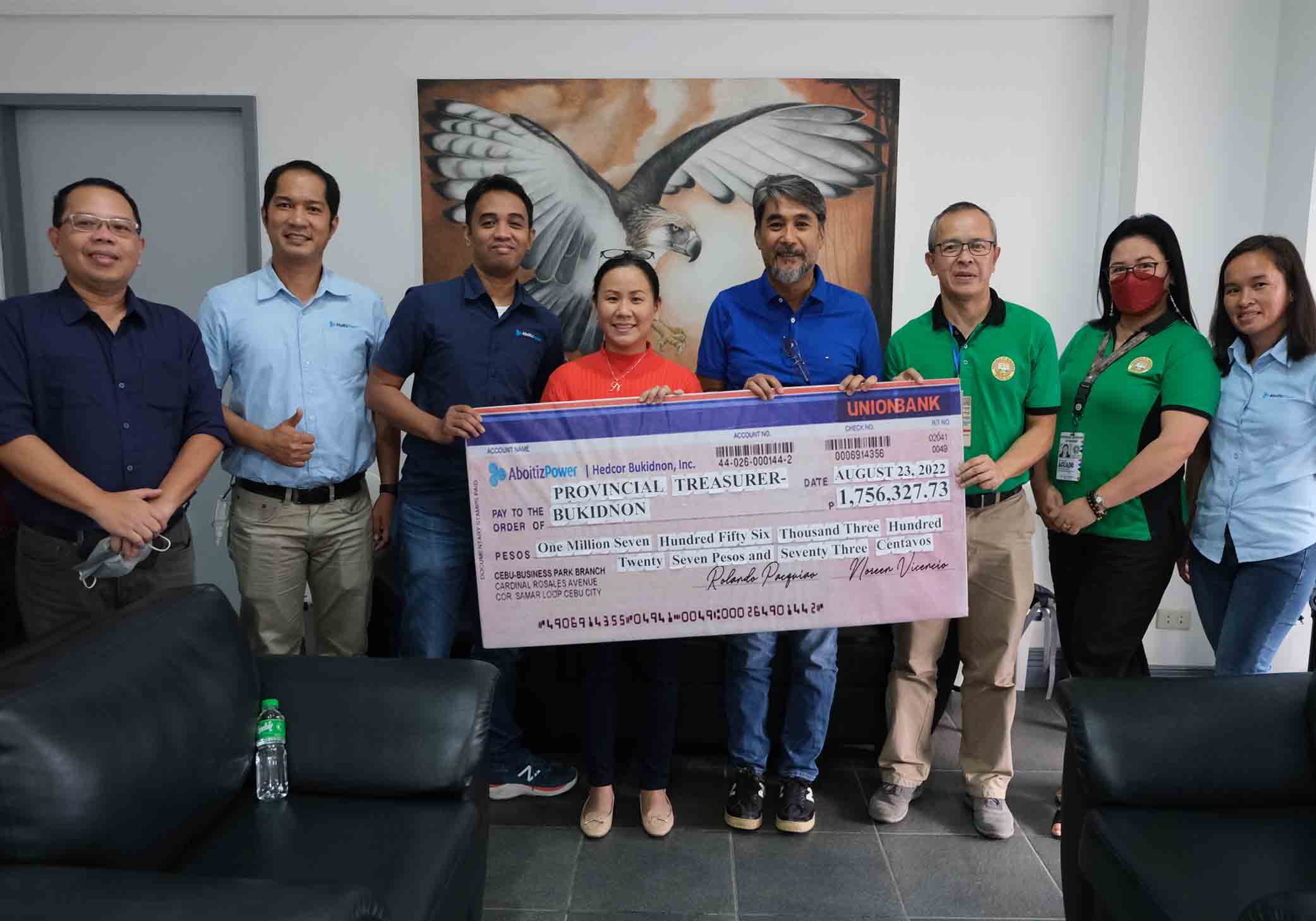 HEDCOR HANDS OVER P9.7M WORTH OF COMMUNITY SHARES IN BUKIDNON
Hedcor turned over P9,711,000 million worth of community shares to the local government unit and host communities of Bukidnon, which is pegged for the first quarter of 2022.
Hedcor recognizes its responsibility to stand in solidarity with the communities. "Hedcor will continue to realize our host communities' dreams and aspirations with life-changing impact; and become a beacon of hope that has the power of creating sustainable change," said Rolando Pacquiao, President and COO.
Said amount is equivalent to one fourth centavo to one centavo per kilowatt-hour (P0.0025-P0.01/kWh) electricity sales. The computation is based on Hedcor's Memorandum of Agreement with its host communities generated from the total attributable energy sales of Manolo Fortich 1 and 2 hydros.
The provincial government pledged to use the funds to implement relevant projects that benefit the community. "We thank Hedcor for being steadfast in their commitment to the implementation of our MOAs. We are excited to witness and to continuously partner with Hedcor for the conscious and consistent positive change that these funds will bring to our communities," said Governor Rogelio Neil Roque.
Distribution will be P1.7M for the Province of Bukidnon and Municipality of Manolo Fortich respectively; while P1.2M is for the Municipality of Impasug-ong.
Moreover, impacted communities in Manolo Fortich also received their shares. P800K for Barangay Santiago; P600K for Barangay Guihean and Guilang-Guilang respectively; P500K for Barangay Lingion; and P200K for Barangay Dalirig.
To further strengthen the rich culture and tradition of our IP brothers and sisters, community shares allocated for their development programs are also realized-P400K is for the Santiago Tribal Community, Inc., Impakibel; Apo Man Asilan Tribal Association; and Maluko Barangay Council respectively. P300K goes to the Lumikapaw ka Guihean Tribal Council of Elders; and Guilang-Guilang Apo Datu Nanikunan Association Inc. respectively. Finally, P100K is for Buklod Kayantang Tribal Association Inc.
Aside from the annual shares, Hedcor consistently conducts projects focusing on health, education and livelihood.
Liza Muga
Admin
Date Posted: October 01, 2022