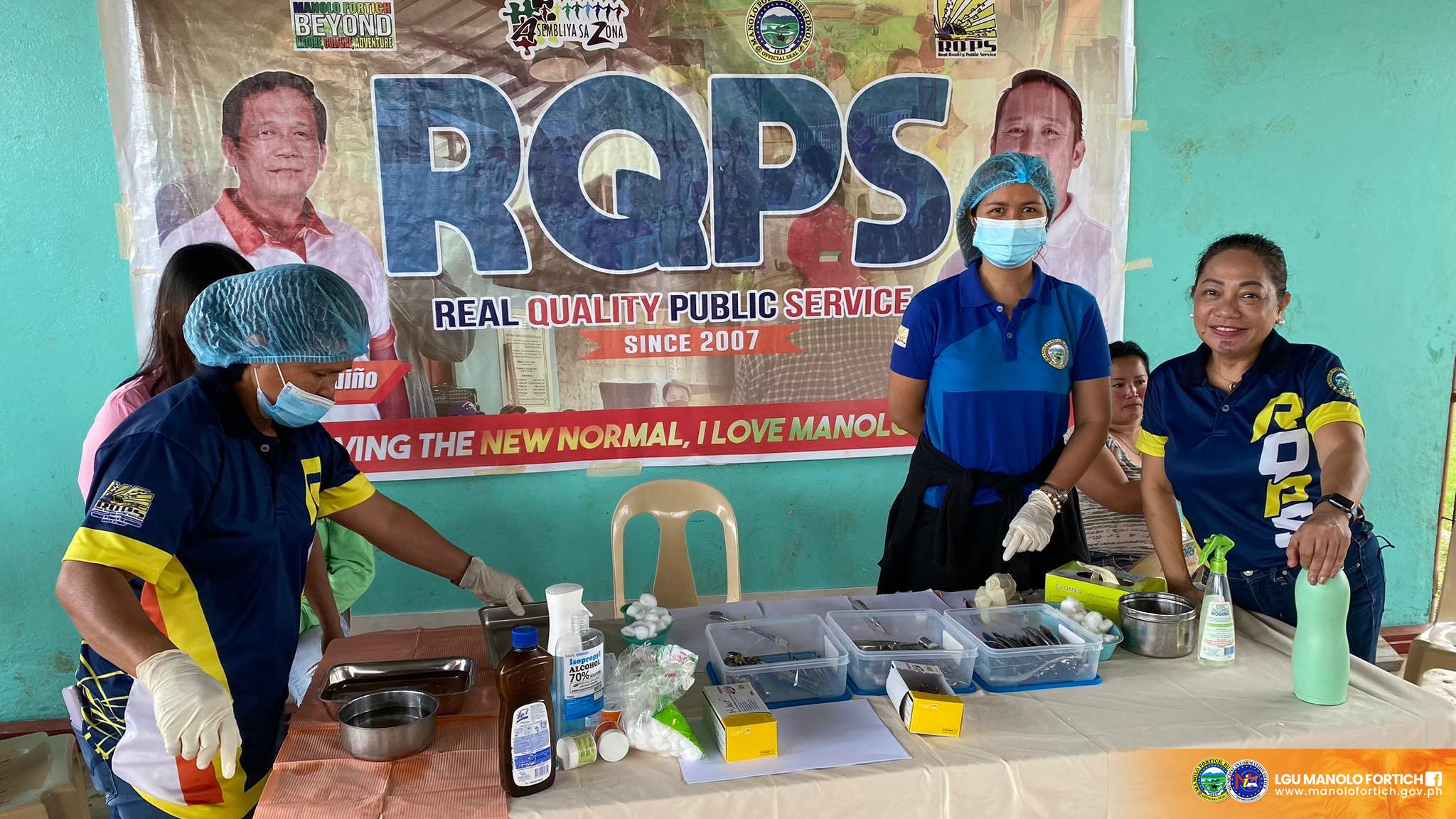 22nd Round of Real Quality Public Service caps at Barangay Sto. Niño
The 22nd round of RQPS commenced at Barangay Sto. Niño
Jesusa Moneva, 61 years old, brought her 4 cattle beside Barangay Sto.Niño Covered Court during the Real Quality Public Service to deworm and provide vitamin supplements for livestock last February 3, 2023. Jesusa did not let the opportunity pass the free services offered by the Municipal Agriculture Office. She admitted that one of her cattle died after getting sick. "Dako kaayo ko og pasalamat nga nalibre ang pangpurga ug vitamins sa akong mga baka kay kung wala ni magniwang gyud ug magsakit pud. Mao nang magpasalamat gyud ko og dako nga naay RQPS kay matabangan gyud ang among mga hayop ug kung naa mi mga problema sa among mga binuhi among masulti ba ug unsa ang among maayo nga buhaton. (I am very thankful that my cattle were dewormed for free and received vitamins because if it were not for this, for sure my cattle would get sick also. That is why I am very thankful that RQPS exists to help our animals and if we have problems with our livestock we can make sure of what to do." stated Jesusa.
Municipal Agriculture Office also distributed free vegetable seeds to the residents. While the some of the residents arrived early at the covered court to avail the other services of the RQPS. As usual, there are free dental services where aside from the dentist form the Municipal Health Office, the dentists and soldiers from the 52nd Engineer Brigade also helped during the event. There is also the free medical check-up, haircut, and massage. The medicines are also given for free from the personnel of the Municipal Pharmacy and Department of Health. Free registration for the senior citizen and persons with disability were also offered to the residents.
Barangay Captain Yolanda Valdehueza expressed her great gratitude for the RQPS appointment to their barangay. She saw that through the free services from the Local Government Unit of Manolo Fortich the residents of the barangay were saved from unnecessary expenses. "Dako gyud kaayo ning tabang ang RQPS kanamo kay daghan biya og nagkinahanglan og mga tambal ug naay ilang mga gipangbati unya kay naa naman gyud ni, dili na sila maka adto sa health center kay maka avail naman sila dinhi sa RQPS nga libre. (The RQPS is really a big help for us because there a lot of us who need medicines for their illnesses, now that RQPS is here, we do not need to go to the health center.)" Kapitan Valdehueza also hopes for the continuation and progress of the program for years. "Nanghinaot ko nga kini nga kalihukan ilang mapadayon kay dako gyud ni og ikatabang dinhi sa mga katawhan dili lang sa among barangay kon dili ngadto sa ubang barangay pud. (I hope that this activity will continue because this offer great help to the people not just in our barangay but also to other barangays.)"
Barangay Sto. Niño is the last baranagay visited by the RQPS Team in its 22nd round for 15 years already. During the short program, Mayor Rogelio N. Quiño encouraged the people to help formulate additional services for RQPS. "Ato gyud ning gisugdan ang atong pagserbisyo sa katawhan sugod pa sa 2007 kadtong panahon nga una nakong termino sa pagka-mayor ug atong gipadayon hangtud karon. Nalipay ko sa pagsuporta ninyo sa akong anak nga si Mayor Clive Quiño ug sa akong mga kauban sa konseho bisan pa sa unang panahon kamo gyud ang nagsuporta.. nagpadayon ang atong RQPS program. Tanan nga serbisyo sa atong munisipyo tanan naa dinhi. Ang akong hangyo kaninyo nga tabangi mi paghuna-huna kung unsa pay angay nato nga serbisyo nga idugang arun maserbisyuhan pa gyud nato ang atong katawhan sa tibuok lungsod sa Manolo Fortich hilabina dinhi sa Barangay Sto. Niño. (We started the services for the people in 2007 during my first term as a mayor and it has continued until now. I am happy for the support to my son, Mayor Clive Quiño and to my constituents from the beginning who supported and continued the program. All the services of the municipality are here. My request is for you to help us out in formulating what is still needed so that we can serve the whole municipality of Manolo Fortich most especially here in Barangay Sto. Niño)", message by Mayor Quiño.
Meanwhile there were 11 mothers who volunteered to donate breast milk during the milk drive of the Municipal Nutrition Action Office. This will serve as milk stocks in the Human Milkhub that can be utilized during emergencies. Champorado was also served to all the participants of the activity.
As support, the members of the Sangguniang Bayan through the leadership of Vice Mayor Reynaldo L. Bagayas Jr. were present including the Head of Office of the Local Government Unit of Manolo Fortich.
Liza Muga
Admin
Date Posted: March 14, 2023