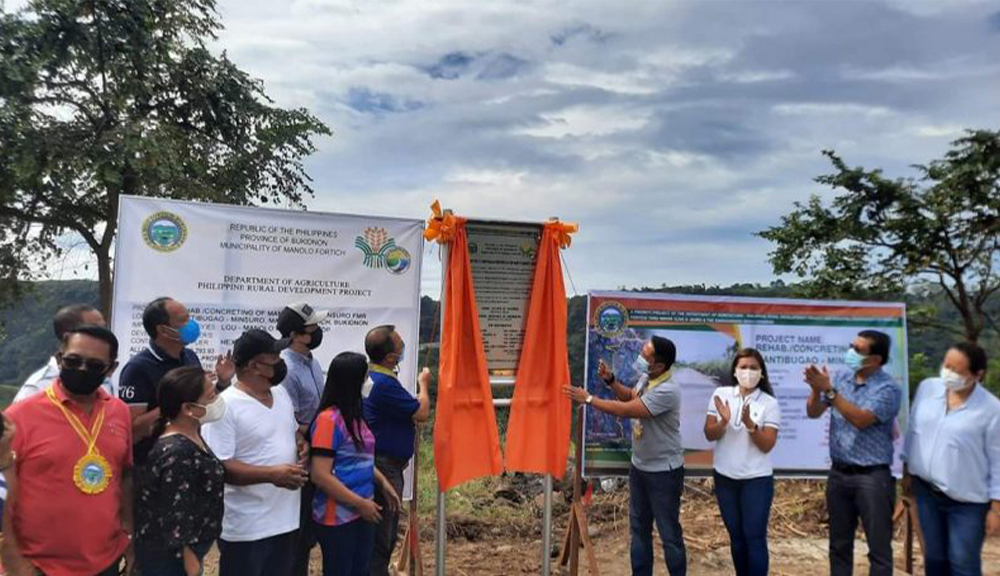 Turn-over Ceremony of Barangay Mantibugao-Minsuro Farm to Market Road
(PRDP) turned-over to the Local Government Unit of Manolo Fortich the 8.04Km Farm-to-Market-Road last February 3, 2022.
Barangay Minsuro became one of the 22 barangays of Manolo Fortich in 1915.Ever since, farmers usually transport their agricultural goods on a bamboo raft along the Tagoloan River.
Despite the unsafe and risky transportation method of their agricultural goods through the river, farmers find this as the fastest way to deliver and sell their products in public markets of Tagoloan and nearby towns in Misamis Oriental and in Cagayan de Oro City. But a historic moment finally came to residents in Barangay Minsuro when the Department of Agriculture through the Philippine Rural Development Project (PRDP) turned-over to the Local Government Unit of Manolo Fortich the 8.04Km Farm-to-Market-Road last February 3, 2022.
The project, which cost almost P72 Million funded by the PRDP and LGU, connects Barangay Minsuro to the main road networks of the municipality.
Through the FMR, it will only take farmers more or less 20 minutes of travel in order to reach the neighboring Barangay Mantibugao compared before that will took them 2-3 hours of travel.
After all the challenges and years in the making, the road is finally open to the public most especially to the people of Barangay Minsuro and Barangay Mantibugao.
The landmark and historic project was first initiated in 2012 by former Municipal Mayor and now Bukidnon Provincial Vice Governor Rogelio N. Quiño.
Under the administration of Mayor Clive D. Quiño, the road concreting started in 2018 and was made possible through the collaborative efforts of then Municipal Planning and Development Officer Nena B. Vallecera, then Municipal Agriculturist Cynthia C. Velasco with the aide of our present Municipal Engineer Bernabe Auxtero, OMPDC OIC Cherry Fe Amor Magallones, Municipal Agriculturist Gemma Cania and full support from our Sangguniang Bayan Members headed by Vice Mayor Miguel Demata.
The Local Government of Manolo Fortich extends its gratitude for the untiring efforts and support from the Department of Agriculture Regional Field Office 10 headed by Regional Executive Director Carlene C. Collado CPA, to Regional Technical Director Carlota Madriaga, Engr. Dellai Tilanduca Camaro, Engr. Tony Teves and to the rest of the PRDP Team.
The LGU would also like to thank the adjacent private lot owners for giving the road right of way.
During the turned-over ceremony, Barangay Mantibugao Chairman Benjamin Magtajas Jr. and Barangay Minsuro Chairwoman Mary Jane Guilayan assumed the responsibility for the road maintenance.
The completion of the 8.04Km Farm-to-Market-Road is a wondrous and fulfilling project especially for the people of Barangay Minsuro and Mantibugao.
To God all be the Glory! Ad Majorem Dei Gloriam!

Ivan Dasilao
Admin
Date Posted: August 17, 2022