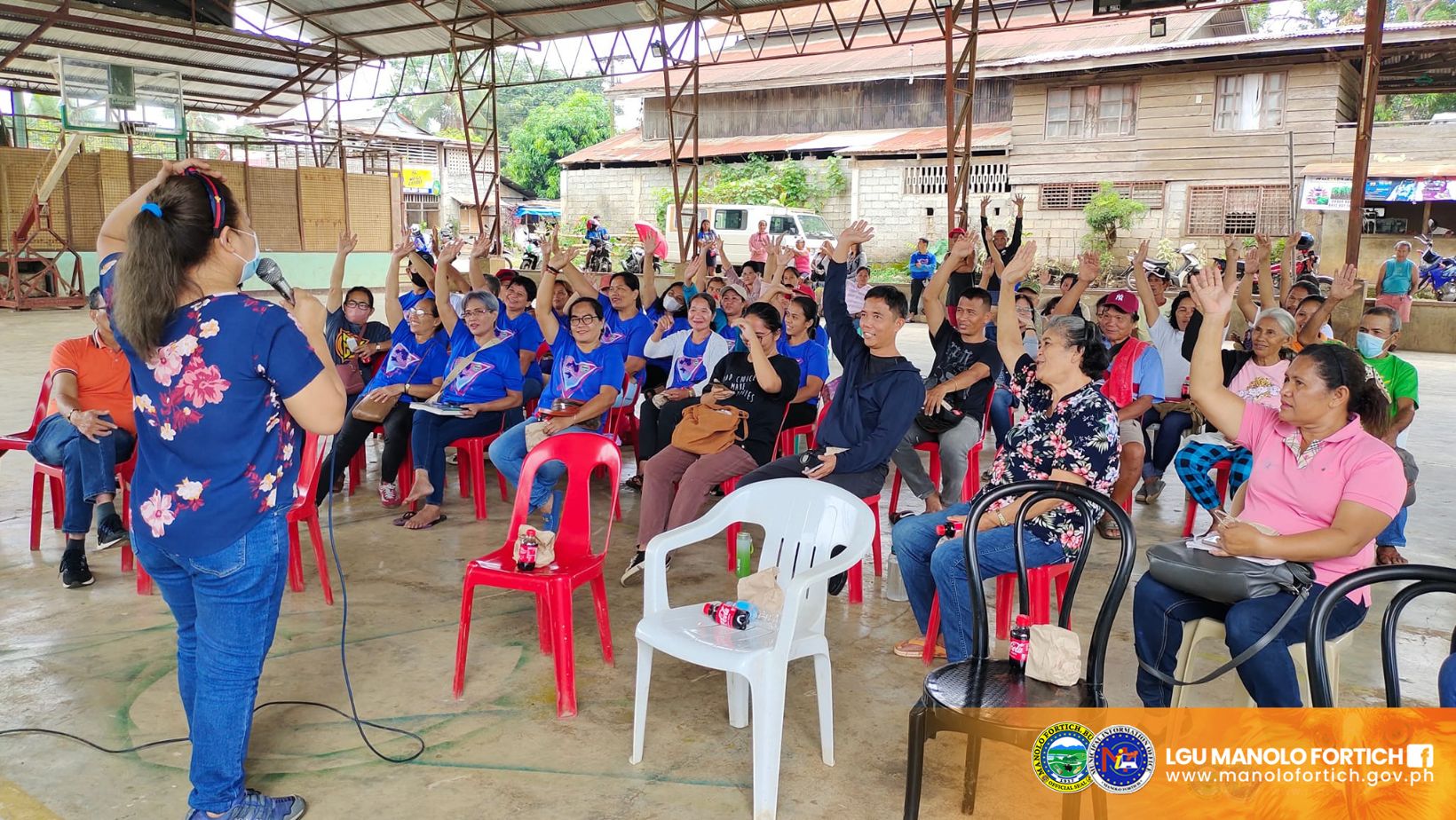 PUBLIC CONSULTATION ON FARM-TO-MARKET ROAD AT BARANGAY LUNOCAN CONDUCTED
LGU Manolo Fortich strives to provide comfort for business and livelihood through FMR.
Different sectoral leaders, purok leaders, and Barangay Officials of Barangay Lunocan were convened for the Municipal Public Consultation on May 4, 2023.
The Local Government Unit PRDP Technical Working Groups aims to consult the citizens, especially the land owners that could be affected by the road right of way. The consultation shall delineate the opinion of the citizens regarding the proposed Concreting of Lunocan Proper-Cebucawan-Sitio Kilobot Farm to Market Road (FMR), which stretches 10.06 kilometers.
CBMS (Community-Based Monitoring System) data shows that Barangay Lunocan is a major agricultural barangay with 900 hectares of cassava farms. TWG Municipal Agriculturist Gemma Cania is grateful towards Barangay Lunocan and the farmers' organization Lunocan Agrarian Reform Beneficiaries Primary Multipurpose Cooperative or LARBPMC. According to Cania, the FMR project was proposed to access farm produce from the abovementioned places easily.
The proposal's requirements will be passed to the Department of Agriculture under Philippines Rural Development Program (PRDP) as soon as the requirements are completed. The PRDP-DA will fund millions for the said project. 80% of the fund will come from the World Bank, 10% from the DA, and the other 10% will be the counterpart of the LGU Manolo Fortich. The estimated cost of the entire project amounts to 220 million pesos.
The said FMR has 6 meters width with 8 inches of cement thickness to ensure its quality and for it to hopefully withstand a more extended period.
Present during the public consultation are Committee Chair on Agriculture Konsehal Raquel A.Bayacag, Committee on Public Works and Engineering Konsehal Junidini J.Artajo, and Committee on Farmers Konsehal Elzevir A. Dagunlay.
Liza Muga
Admin
Date Posted: May 24, 2023