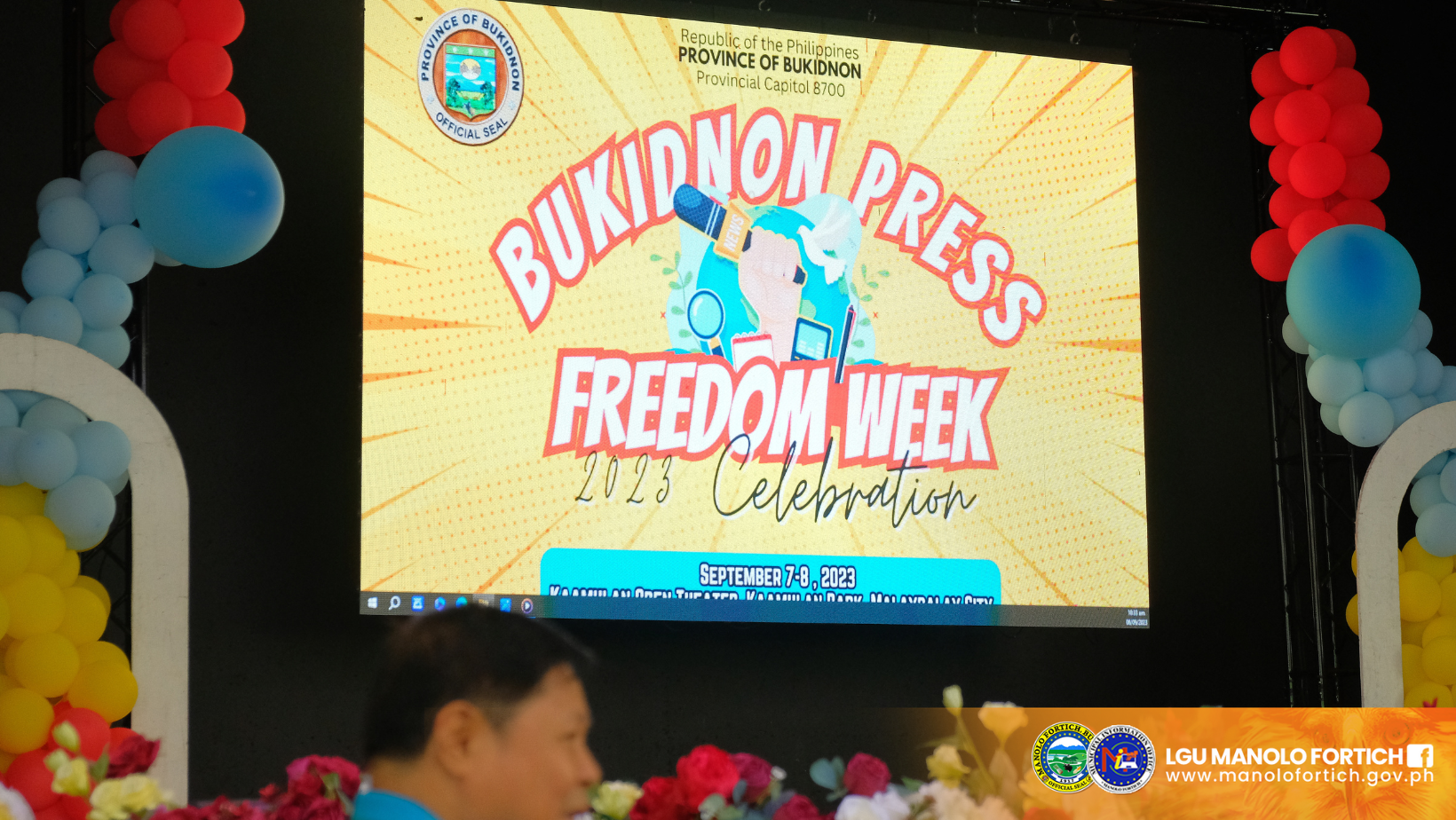 LGU Manolo Fortich participates in the 1st Bukidnon Press Freedom Week Celebration
Press Freedom is celebrated through highlighting immense media public service
Acknowledging the valuable and crucial contribution of the media to the development and prosperity of nation-building, the Provincial Government of Bukidnon conducted the very first Bukidnon Press Freedom Week Celebration on September 7-8, 2023 at Malaybalay City, Bukidnon.
The event was participated by the different media personnel from local radio stations and Local Government Unit Information offices. The two-day event was composed of civic activities on the first day and the media summit on the second day. Different resource speakers shared their expertise and knowledge to the participants to further increase their proficiency in delivering the truth to the mass.
The following were the resource speakers of the summit and the topics they elaborated. Orientation and Launching: Presidential Task Force on Media Security introduced by Prosecutor Rommel M. Alonto, the Deputy Provincial Prosecutor. This refers to the proposal in creating the task force to protect the media people in the execution of their tasks. Taking in the Pros. Alonto's words, "Thus, I reiterate my challenge to our beloved members of the mainstream media and the press, to be active sector that you are in bringing reliable, truthful, objective, fair, balanced and complete news and information to the public."
Atty. Ophelia Pilar Rubio-Zamora, public relations/information officer of the IBP-Bukidnon Chapter on the other hand, delved into the Data Privacy Act of 2012. to harness the journalists skill in data collection and sharing in the field. Moreover, PMAJ Ray Vincent N. Magto, team leader of the Regional Anti-Cybercrime Unit Region X introduced his topic on Freedom of Information & Cybercrime Prevention Act whom have given relevant and wise advise to the participants on how to guard oneself and people from identity theft and other cyber crimes. After every talk, an open forum is held to shed light to questions and queries from the participants as well as seek advice from the different resource speakers.
The event was well supported by the Provincial Governor Rogelio Neil P. Roque who was present during the media summit and earnestly expressed his appreciation and eagerness to affirm the contribution of the media and the journalists in monitoring the efficacy and transparency of the public service of the Province of Bukidnon. "Mao kini ang nagduso nga ang provincial government nag-suporta gayud aning Press Freedom Week kay nakita nako nga ang media personnel mao ang kaabag sa kaayuhan sa probinsiya. Kamo ang pwede magsulti sa amo kung unsa pa among kakulangan ug sa paagi niana pwede kaayo ta ma-improve sa among pamaagi sa pagserbisyo sa katawhan."
Championing his inclination to freedom of the press, the Provincial Vice Governor Clive D. Quiño emphasized his intentions taking steps on making sure that the freedom of press is always safeguarded as well as the journalists who put their selves on the line to serve. "We must keep media freedom and the safety of journalist high on our agenda and we must ask for stronger political will and concrete actions from our leaders. We must ask for more action to implement existing standards in protecting journalists from abuses, we should push for a change in political discourse regarding the press…You can count on us, to me to promote freedom of expression like I always have. This is a personal commitment that I pledged to you today and I know that there will be more as we come forward in solidarity for a noble cause."
Senate President Senator Miguel Zubiri who emanated his support for the program through a video also expressed his message to the journalists in the province. "I thank all of you, my friends in media, for your important work to all the people… We are assured that we are always informed and educated. And as a son of Bukidnonn, I am especially thankful for you here as a bridge to your people. You help us share our projects, plans and programs to the people."
Liza Muga
Admin
Date Posted: September 11, 2023