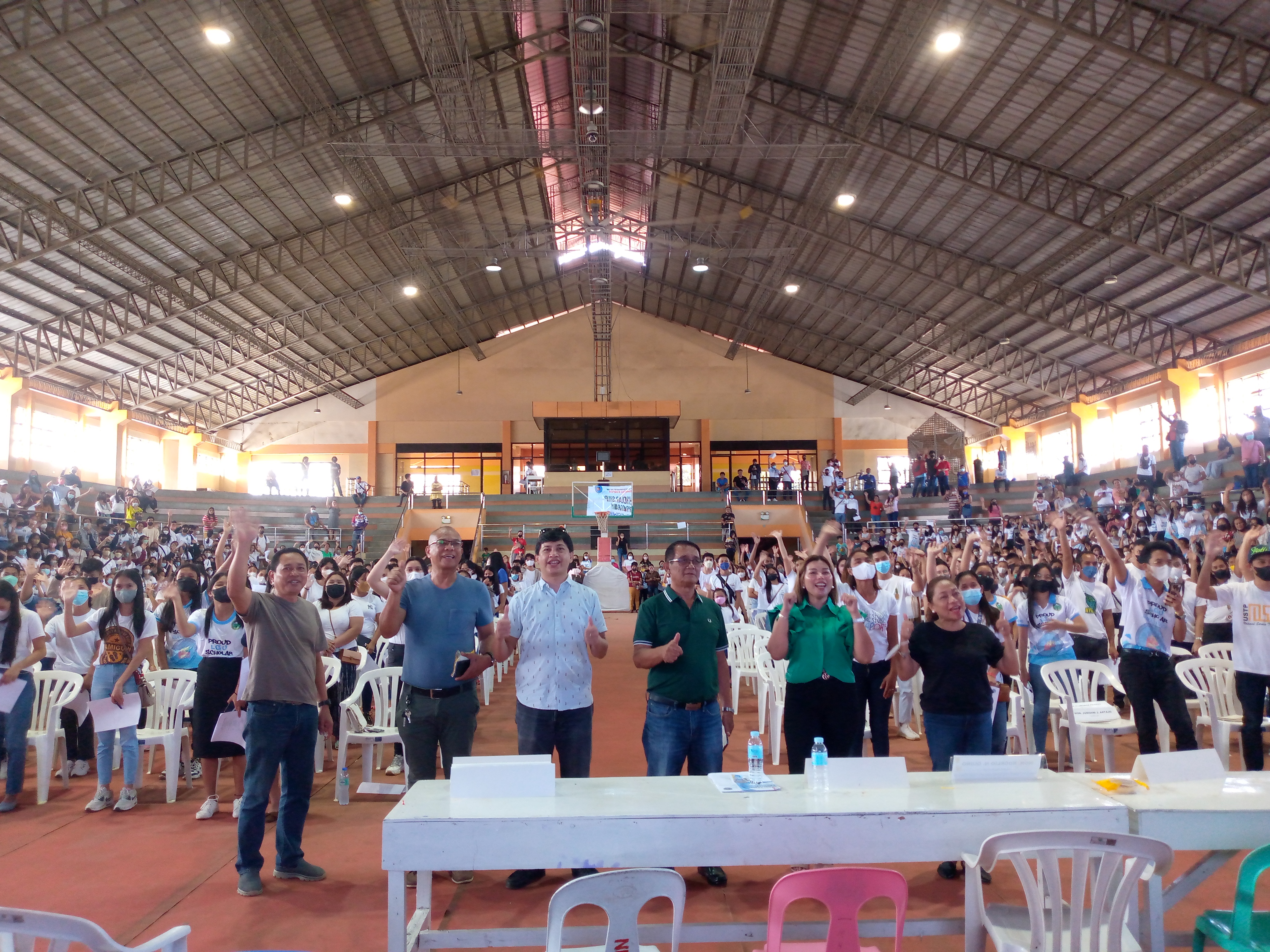 525 LGU Scholars Attends Contract Signing
The LGU Scholars of Manolo Fortich together with their parents attended the contract signing.
Five hundred twenty five Local Government Unit Scholars of Manolo Fortich, 230 of which are Senior High School Scholars, 235 College Scholars and 60 are Special Project Fund scholars convened at the Municipal Gymnasium on October 22, 2022 to attend the orientation and signing of contract.
The LGU Scholars contract signing was graced by the Municipal Mayor Rogelio N. Quiño, Vice Mayor Reynaldo L. Bagayas Jr, Sangguniang Bayan members Coun. Joy L. Cordovez and Coun. Rina E. Quiño. Due to the large number of applicants, each of the SB members adopted 5 scholars to cater, which now comprise what is called the Special Project Fund Scholars. After every semester, the assigned scholars per councilor shall submit their grades and requirements to their corresponding sponsor.
Every scholars shall receive an amount of 5,000 pesos per semester for four years provided that they comply with the provisions stipulated on their contract. These scholars took the exam and were properly screened by the Scholarship Committee comprising of the municipal mayor Hon. Rogelio N. Quiño, the chairman of the Committee on Education Coun. Miguel D. Demata, ABC President Coun. Floramae Penaso, SK Federation President Coun. John Anthony Leyson and some of the department heads the Local Government Unit of Manolo Fortich.
During his message, the Municipal Mayor encouraged the scholars to study well as he shares his hopes that the scholars will finish their degrees. He also shared the possibility of sponsoring scholarship for graduate studies. "So paningkamot mo kay I will even finance kung naa gayud graduate studies. Kanang mahuman jud sa pag skwela unya mag doctor or unsa diha, atong i-finance na. personal namo ni Ma'am Tessie."
On the other hand, scholarship grantees extend their gratitude towards the administration for the opportunity given to them. Prima Tacandong, a scholar from Alae under Coun. Miguel Demata who is now a BS Accounting student of Mindanao State University- Iligan Institute of Technology shares, "Dako kayo akong pasalamat sa mga opisyales nga nagpasiulo ani labi na kay Hon. Mayor Rogelio N. Quiño ug PESO Manager Roger Molina tungod kay kini dili lang makatabang sa akoa para sa mga galastoon sa skwelahan kung dili mas mapagaan pud niya ang expenses sa akong mga ginikanan." (I am very thankful to the officers who are behind this most especially to Hon. Mayor Rogelio N. Quiño and PESO Manager Roger Molina because this do not only help me in my school expenses, but this also lessen the burden of my parents.) Moreover, Floredvilla Crsitobal, an OFW repatriate who has been a scholar for two years now and a student of the Northern Bukidnon State College taking up BSBA Marketing shares how this scholarship has been a great opportunity for her. "To God be the Glory, I'm in my third year now still continuing to pursue and doing my best to maintain my grades and to do everything to finish 'til the end."
Justifying its vision statement, the Local Government of Manolo Fortich has already helped many poor but deserving students achieve their dreams through the financial assistance giving accessibility to higher education to the members of the community through the supportive services of Public Employment and Scholarships Office headed by PESO Manager Roger O. Molina. According to records, the number of scholars this year is by far the largest.
Liza Muga
Admin
Date Posted: October 25, 2022