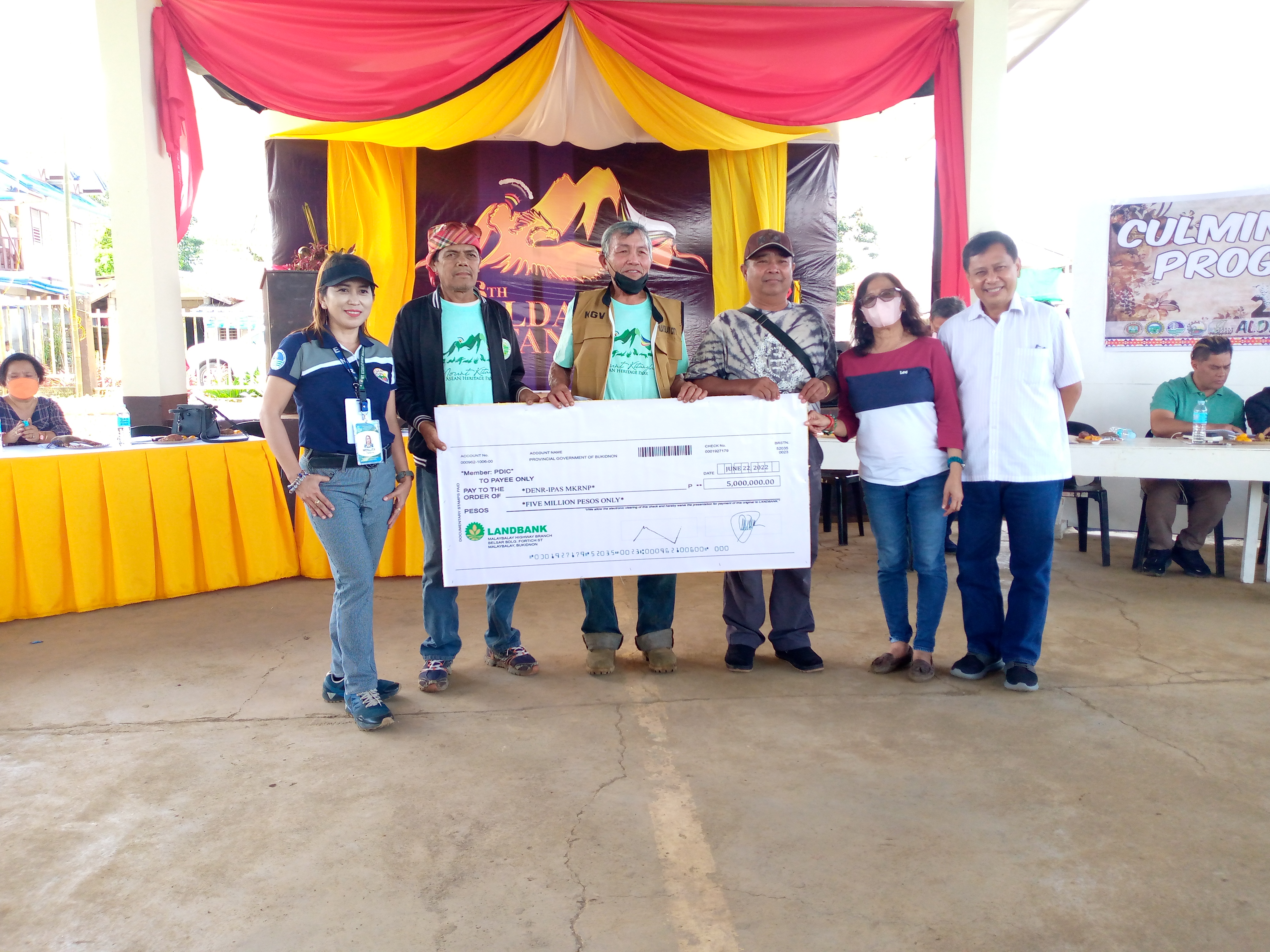 KGV receives 5 Million Financial Support for Mt. Kitanglad Protection and Preservation
The financial support is dedicated for the projects and activities of the KGVs
During the culmination program of the 26th Aldaw Ta Kitanglad hosted by the Local Government Unit of Manolo Fortich held at Barangay Dahilayan on November 10, 2022, the Kitanglad Guard Volunteers received the 5 Million pesos financial support from the Provincial Government of Bukidnon for the continuous and intensified protection and preservation of the Mt. Kitanglad Range Natural Park.
This financial support was received by the KGV Federation President Benjamin M. Maputi, Sr., KGV Federation Vice President Romeo Tagnoay, and KGV Federation Treasurer Leodie Caare. The said funding shall be used for the federation's projects as well as the KGV volunteers' welfare. Aside from the financial funding from the Provincial office, the different municipalities also turn-over the logistics to the KGVs during the ceremony. LGU Libona provided sweatshirts and rain boots, LGU Manolo Fortich provided Medical Supplies and Medicine, Raincoats, gloves and waterproof bags, LGU Lantapan gave rain boots, raincoat, and rechargeable lights, LGU Sumilao offered vests, rain boats, and rechargeable lights, while LGU Impasug-ong, LGU Baungon and LGU Malaybalay City gave rain boats, rain coats and vests.
The Mt. Kitanglad Range serves not only as a haven for the vast forests that provides a reservoir of clean water to the province and its wildlife but it is also the home of the indigenous people (Higaonon, Talaandig and Bukidnon) who serves as the KGVs who are at the forefront in protecting the mountain for biodiversity conservation and sustainable development. The mountain also serves as source of livelihood, medicine, food and cultural survival. Mt. Kitanglad range is acknowledged as the only ASEAN (Association of South East Asian Nations) Heritage Park in the province of Bukidnon for its relatively intact and pristine forest.
Assistant Regional Director of the Department of Environment and Natural Resources (DENR) Dr. Felix S. Mirasol extended his thanks to all the people behind the preservation of the area, taking time to mention every government, non-government agencies, sponsors, and most especially the local citizens who are there in the area. Due to the joint efforts of the aforementioned dignitaries and the Protected Area Management Board (PAMB), he proudly reported how the Mt. Kitanglad range became an exemplar in national and international conferences because of how the people of Bukidnon take care of it. "Tungod sa inyong sakripisyo sa Mt. Kitanglad, naila na kita sa tibook kalibutan. Nahimo kitang ASEAN Heritage Park. Kada duha ka tuig dunay international conferences permi gayod resource speaker ang Mt. Kitanglad. Among ipasigarbo, among gi-share sa ila unsay nahitabo dire sa ato." According to Dr. Mirasol's report, there is an increase in the forest area in the Kitanglad range of about 3,963 hectares because of the sacrifices of the lumads in looking for other ways of living instead of taking away resources from the mountains unlike what they used to before.
Liza Muga
Admin
Date Posted: November 17, 2022