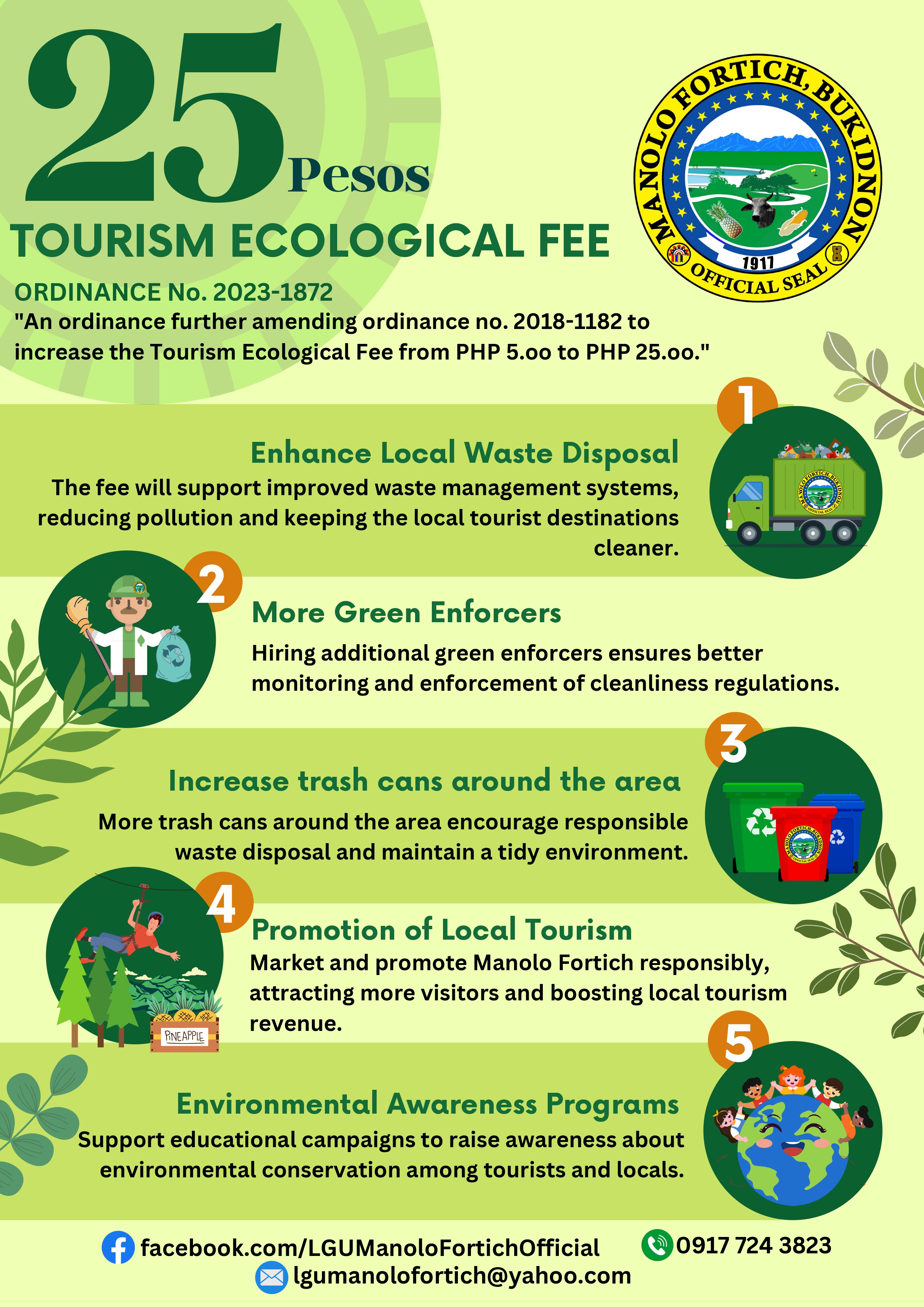 IMPLEMENTATION OF THE INCREASE IN TOURISM ECOLOGICAL FEE
In our continuous efforts to preserve and protect the natural beauty of Manolo Fortich, we are thrilled to announce the implementation of Ordinance No. 2023-1872.
This ordinance further amends Ordinance No. 2018-1182 with a significant change: an increase in the Tourism Ecological Fee from PHP 5.00 to PHP 25.00.
Starting from September 01, 2023 (Friday), the collection of the PHP 25.00 Tourism Ecological Fee will commence. We kindly ask for your support and cooperation as this initiative will greatly contribute to the conservation and enhancement of our beloved tourist spots.
Why the Increase?
The increase in the Tourism Ecological Fee is crucial to fund ongoing conservation efforts, maintain our pristine surroundings, and sustain the unique experiences you've come to cherish.
How Can You Help?
Pay Your Ecological Fee Beforehand: To avoid any delays and make your visit more enjoyable, we encourage all tourists to pay their ecological fees before entering our breathtaking tourist spots. You can do this at designated payment booths in our various tourism destinations.
Spread the Word: Help us in spreading awareness about this initiative among your fellow travelers. Together, we can make a significant impact on preserving the beauty of Dahilayan.
We deeply appreciate your support in these efforts. Let's work hand in hand to ensure that the wonders of Dahilayan continue to inspire and captivate generations to come.
Thank you for being responsible and environmentally conscious travelers. We can't wait to welcome you to our stunning natural paradise!
See poster for more details.

Joey Yecyec
Admin
Date Posted: August 30, 2023